Owner Operator Arri Amira Premium
The Director of Photography You Want
Whether you are a Producer, an Executive Producer or a Director, you want a Director of Photography who can deliver quality images at a reasonable price and quickly. You must balance the creative demands of the project and the financial needs or restrictions of your backers or clients. Your Director of Photography should understand that. You need a partner.
You want a Director of Photography who:
Understands composition
Knows how to light using everything from natural lights and practicals to unloading a 3 ton grip truck
Works well with crew and fosters a no-drama set
Anticipates your needs
Is client friendly.
"I have worked with Robert for years, through many long shoots and for all kinds of clients. He is an expert at what he does—has his eye on everything on the set. The camera moves, the lighting, everything it takes to make great footage. I know I can count on him to help us turn out a good product, every time. He is great with crew members and sets a tone on the set that's fun and friendly, but very efficient and smooth running. He is a joy to work with."

Shelley Kingrey, Creative Director
The Director of Photography You Need
Frequently there is one chance to get a particular shot, and the Director of Photography needs to get that shot: reliably, creatively, quickly and with a smile. Robert Durland is a Director of Photography with the sensibilities of cinematographer, the news videographer's ability to "punt" as needed, and additional skills gained from experience in four major areas of production: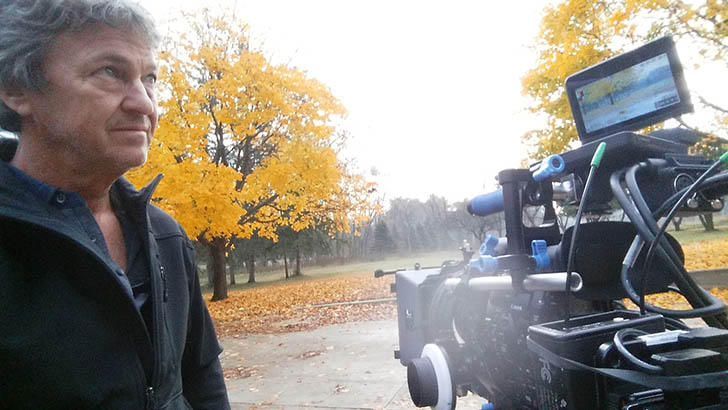 …the challenge - the excitement… is capturing the fleeting moment; a hummingbird brawl in Dutch Canyon Utah, or the subtle flicker of melancholy in an Olympic athlete's eye…usually there is one opening, one instant…
Documentaries Commercials National Sports Independent Features TV Series Fortune 500 My post college adventure started as a television photojournalist, working for a technical and creative purist. I was (forcible) inspired with his uncompromising requirement of attaining perfection in the mechanics of the tools, and in the imagery of the art. Years later, flying 12,000' over the Tetons shooting with the door off the Jet Ranger, or with the early storm chasers deploying "Toto" in front of the approaching tornado, I still recall Monty's (usually not so tactful) guidance.
I was very fortunate at the start of my journey that the three televisions stations I worked for understood, and stressed, the importance of great photography. An integral piece of developing those skills involves editing, especially your own footage – it teaches you not only what elements are needed in post, but how to "direct the eye" of the viewer, to seamlessly tell the visual story. A great side benefit is TV news enables you to lean how to listen and observe people, and the situation around you.
Associate producer/photographer/editor on four hour documentaries over a two year span, was a photographer/gaffer/editor at a production company, and two plus years a manager of a production house. Have hundreds of hours shooting out of various helicopters, often using a harness standing on the skid, and with various mounts. (So far only two near misses, and one forced landing!). Love working with small doc style shoots, to full crews with grip truck and complex lighting setups.
Tools are important in any work environment; even a child can wield a hammer to pound a nail. How to apply the tools to the craft depends on your depth, understanding, expertise and knowledge. Can you snatch the pebble from the master's hand...
I'm currently working regularly with the Arri Amira. Arri is continuing its role as the leader transitioning from in film to feature quality digital cameras, both in imagery and structural design. My tool chest includes the Arri Amira w/ Canon 17-120 lens, Canon C-300 and Canon 5D and support equipment.
I have had a few remarkable masters that I have taught me not only how to, but how to continue to learn and wonder and enjoy. … 
The veterans hesitate step returning to Omaha Beach, a little girl prancing around the set - surrounded by a sea of green (screen) in the midst of 40,000 watts of light – complementing the narrative with illumination and composition is my aspiration, my smile…
"Introverts are awesome, they just keep it to themselves."
Debra Collyer
Contact Robert Durland DP for Your Next Production
Sometimes you have the luxury of sufficient time for pre-production planning. Other times you don't. Whether your production is six months out, or six days out, you won't be sorry if you give Robert Durland a shot on your next shoot.
Pricing is flexible, depending upon your production needs. Call 612-386-9060 or contact us for more information.